Verdana Village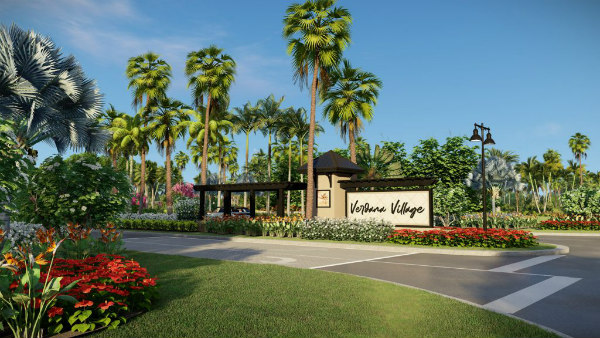 Verdana Village is a master-planned community located on Corkscrew Road in Estero. This amenity-rich community will have a total of 2,400 homes when completed. Homes in this 2,100-acre development are sited on premium lots with lake or preserve views and 40-foot front setbacks from the street. Homes in the community are being constructed by national builders Lennar and Pulte Homes.
Verdana Village Homes For Sale
Verdana Village Homes For Sale
September 25, 2022
More About Verdana Village
Verdana Village Amenities
Amenities at Verdana Village include a sports complex with indoor tennis, pickleball and basketball courts, fitness center, movement studio, racquet pro shop and cafe. Outdoor amenities include a resort-style-pool, spa, tennis, pickleball and bocce courts, dog park, yoga lawn and playground.
The Shops at Veranda, located adjacent to the community, will offer a Publix Grocery store as well as prime restaurants and boutique shopping.
Verdana Village Location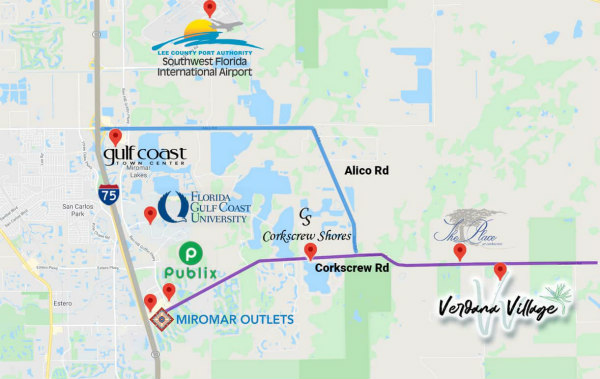 Verdana Village is a located in on Corkscrew Road in Estero, east of Alico Road and the Old Corkscrew Golf Course. This location offers convenient access to Southwest Florida attractions including Gulf Beaches, Coconut Point, Gulf Coast Town Center, FGCU, Naples and RSW. The popular Place at Corkscrew community is located across the street from Veranda Village.
Verdana Village Floor Plans
Executive Series
Capri: 3 BR | 2 BA | 2-Car | 1,677 SF
Venice: 3 BR | 3 BA | 2-Car | 1,849 SF
Trevi: 4 BR | 3 BA | 2-Car | 2,032 SF
Marsala: 3 BR+Den | 3 BA | 2-Car | 2,201 SF
Amalfi: 4 BR | 3 BA | 2-Car | 2,529 SF
Monte Carlo: 5 BR | 3 BA | 3-Car | 3,231 SF
Manor Series
Princeton: 4 BR | 2 BA | 3-Car | 2,244 SF
Tivoli: 4 BR | 3 BA | 3-Car | 2,267 SF
Summerville: 3 BR+Den | 3 BA | 3-Car | 2,444 SF
Richmond: 4 BR+Den | 3 BA | 3-Car | 2,725 SF
Sorrento: 5 BR | 4.5 BA | 3-Car | 3,283 SF
Estate Series
Oakmont: 3 BR+Den | 2.5 BA | 3-Car | 2,361 SF
Doral: 4 BR | 3 BA | 3-Car | 2,553 SF
Sunset: 3 BR+Den | 3 BA | 3-Car | 2,650 SF
Agostino: 3 BR+Den | 3.5 BA | 2.5 Car | 2,796 SF
National: 5 BR | 3 BA | 3-Car | 3,473 SF
Wynwood: 5 BR+Den | 4.5 BA | 3-Car | 3,945 SF
Tour Verdana Village
Verdana Village Gallery