The Commons Club at The Brooks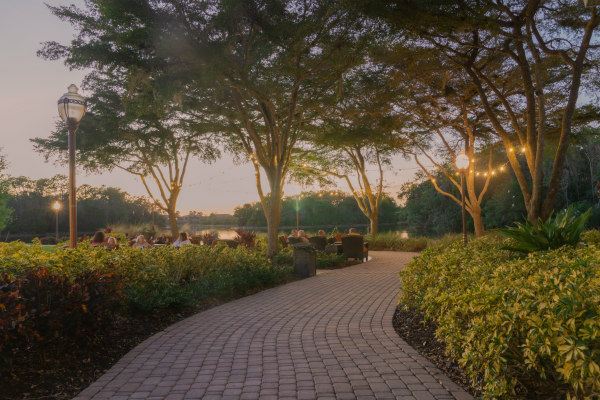 The Commons Club Lifestyles
Located in a lush, park-like setting along Coconut Road in Bonita Springs, FL, the Commons Club at the Brooks is a member-owned amenities club of 2300 families. The Commons Club is part of The Brooks mixed use community epitomizing the relaxed Florida lifestyle with residential living, shopping centers, office buildings and community parks spread throughout The Brooks five developments.
Approximately half of The Brooks residents belong to the Commons Club and enjoy a premium amenities package ranging from a private beach club and endless cultural and social activities, to a state-of-the-art fitness center and spa, and private lakeside restaurant.
The Commons Club Beach Club
Situated on Little Hickory Island off Bonita Beach, the Commons Club Beach offers light breezes and pristine sands as the perfect backdrop for a stroll along the shoreline or afternoon nap in a cozy beach chair. The club provides umbrellas and chairs to members as well as shaded pavilions and grills for personal cookouts. Additional facilities include restrooms, private parking and a snack bar.
Health & Lifestyle Center at The Commons Club
A newly renovated 15,000 sq. ft. Health & Lifestyle Center provides a full range of wellness programs and spa services for all ages and abilities. Fitness programs range from custom-designed training programs to group classes and personal training catered to all fitness levels and abilities. Featured classes include: "Men's Yoga for Golf," "Ta Chi", "Mat Pilates," and Aqua Fit.
Spa Services at The Commons Club
The newly redesigned spa combines personalized, attentive service with a range of massage, aesthetic, and anti-aging treatments to ensure complete relaxation and rejuvenation of the body and mind.
Boating at the The Commons Club
The Commons Club maintains five boat docks along the east side of Hickory Boulevard for members to use for trips to the beach or to rent a boat for the day and plan their own adventure. Boat rentals are located next to the boat docks for added convenience.
Social Life at The Commons Club
The Enrichment Center is at the heart of the Commons Club social life, providing a variety of educational classes, creative arts, a lecture series, and onsite computer lab in one facility. Members also have the opportunity to take field trips to sporting events, art openings, and concerts. This diverse mix of activities brings together club members in a stimulating environment, promoting friendship and provocative conversation.
The Rookery at The Commons Club
The acclaimed The Rookery is an onsite, private restaurant offering casual dining in a pub-like atmosphere. During fall months, the full-service patio provides a more romantic ambiance with musical performances every Tuesday evening. Monthly lobster nights continue to reign as a member favorite.
Explore The Brooks Communities...