Leverage Blogging Dynamics
Blogging has proven to be a an extremely valuable tool in marketing Southwest Florida property. Search engines like Google, Bing and Yahoo have an insatiable thirst for blog posts. Our influential real estate blog devoted to Southwest Florida, is widely read and quoted in the Florida press, real estate trades, and nationals including the NY Times. It attracts thousands of readers a day and is viewed as the pulse of the Southwest Florida real estate market.
To facilitate buyer interest in your property, we will craft a blog post which includes a reference to your property. This won't be a generic post of your listing, but rather an informative write-up about your neighborhood, type of property or feature of your property. We have been blogging here in the Fort Myers area since 2004 and are really skilled at crafting posts that attract buyers to our listings.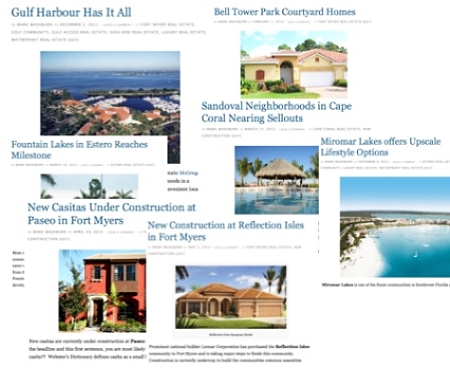 Bottom Line: Targeted Blog Posts Attract Buyers