Fort Myers New Construction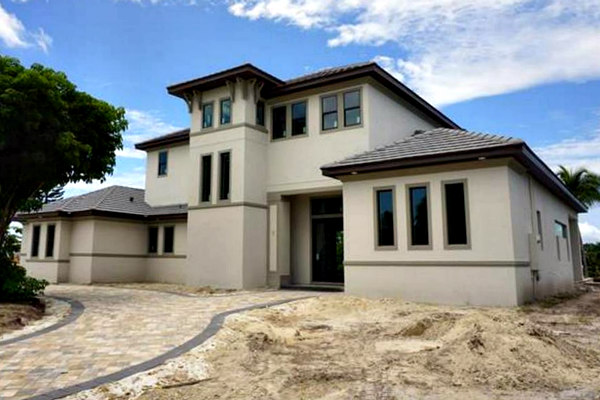 Fort Myers has experienced a significant uptick in new residential construction over the past few months. Most of the current activity is infill construction at existing gated communities that had paused development during the real estate downturn. Read more about Fort Myers new construction.
Fort Myers New Homes and Condos For Sale
Fort Myers New Homes and Condos For Sale
September 25, 2023
Search Fort Myers Area Communities with New Construction
More About Fort Myers New Construction
The Advantages of New Construction
Today's new construction homes are an attractive option in any home search. Depending upon your priorities, the benefits of a new construction property could far outweigh purchasing a a previously owned home. Here are some of the top advantages:
Personalization and custom finishes
It's your home so you get to make the decisions on colors, style and floor plan. Building from the ground up allows you to work with a builder to select counters, cabinetry, flooring as well as all of the modern conveniences that fit your lifestyle. A brand-new home typically offers open space floor plans and natural light as well as today's emphasis on flex rooms and the need for lots of storage.
Energy Efficiency
New construction homes are typically built with the latest advances in construction materials and building practices which can result in reduced monthly bills from better insulated walls and ceilings. In addition, they may include "smart" energy features that automatically monitor and adjust temperature and water usage for optimal energy utilization.
Lower Maintenance Costs
Built to adhere to the most recent building codes and safety regulations, new construction homes are engineered by design to require less maintenance and minimal repairs. Appliances, plumbing, heating, and air are all new and under warranty, leaving most owners worry-free for at least a few years.
Top-shelf Amenities
Depending upon where you purchase your new home, you may have access to a new community and slate of resort-style amenities. Southwest Florida is particularly known for crafting communities with luxurious amenities offering something for all family members. Typical amenities include swimming pools, a fully-equipped fitness center, multi-sports complexes, walking trails, and golf and/or tennis and pickleball. Newer communities are also offering spas and concierge services, including grooming, boarding, and parks expressly for pets.
In addition, many communities employ a fulltime lifestyle director to maintain an active social calendar of activities that allow residents to engage with each other and better enjoy the community.
Our team dedicates time each week to visiting new construction projects and has proven to be a valuable resource in narrowing the field for buyers. After understanding your requirements, we can help focus your search on the specific new construction opportunities that would be the best fit.
Do You Need a Realtor When Buying New Construction?
One of the primary advantages of a new construction home is that you are the first to live there. Not only can you design your dream home with your aesthetics and custom finishes but because you are the first to turn on the lights, everything is in pristine condition. Accordingly, you're unlikely to have to make repairs any time soon. While a builder's agent can help you through the purchase process, you still need your own real estate agent to ensure you have someone representing your side of the deal. Here are four reasons why you need a realtor to assist with the purchase of a new construction property:
Your real estate agent represents you
Your real estate agent is contractually obligated to put your interests first and ensure you get an optimal deal. In contrast, the builder's sales agent is typically incented to sell as many homes and at the highest prices as possible to generate revenue for the builder. As pleasant and helpful as this agent may be, ultimately, his goals are very different from yours. In addition, your agent can provide helpful context on the real estate market in general as well as neighborhood dynamics and any other factors that could affect your investment over time.
Your real estate agent can save you money
Your realtor can help you save money in a number of ways – and at no additional cost, since the builder is paying your agent's sales commission. An experienced realtor typically works with many builders and thus has insights on how willing they are to negotiate discounts based on market dynamics.
Your realtor can also assist with streamlining the customization process for you. The model home you tour on your first visit is typically loaded with premium finishes which can cost significantly more than the advertised base price of a home. Your agent can guide you on which finishes to prioritize and at what price to not only save money, but ensure the appeal of your new home is timeless to future buyers.
Finally, your agent can assist with timing. If you can't include every option on a tight budget, your agent can advise on what items to include now, such as basement, rather than upgraded fixtures or moldings that can easily be added later.
Your real estate agent can help you select the right neighborhood and builder
While a builder's agent is focused on selling homes in that particular development, your real estate agent has an objective view of many different neighborhoods and builders. He/she can work with you to understand which builder will be the best fit for your budget and tastes and then assist in finding the right community and lot for your lifestyle.
Your real estate agent can help with the paperwork
Many new construction buyers find the deluge of paperwork overwhelming. Not surprisingly, a typical contract is crafted by the builder to favor the builder's interests. Your agent can not only review your contract to ensure you're getting what is promised, but they can help you revise it in your favor. An agent can suggest contingencies and recommend legal counsel to add additional language that can protect you against complications, should anything go wrong. Your agent can also assist in keeping the process moving as well as help you set up an inspection to ensure all exteriors and interiors, such as electrical and septic systems are sound.
Your home is one of the biggest financial purchases in your lifetime. Having a trained professional at your side to guide you through the process can ensure the best outcome as well as give you peace of mind during what can be a very stressful time.
From Our Blog - New Construction