Cape Coral Gated Communities
In the past few years, gated communities have established a strong presence in Cape Coral. Gated communities represent a major housing evolution as the Cape was originally subdivided into individual house lots in the 1960s. Many of these communities are located in the northern and western sections of Cape Coral, which gained convenient access when Veterans Highway was opened. Cape Coral has several outstanding developments and residents enjoy the amenities and security of these deed-restricted, gated communities.
Bella Vida
Bella Vida is a new gated community of single-family homes and townhomes developed by D.R. Horton. Bella Vida features a multitude of lakes and wonderful outdoor spaces for the enjoyment of its residents. Bella Vida amenities include a clubhouse, pool, tennis courts, soccer field, basketball courts, volleyball courts, playground and a picnic area with BBQ. Bella Vida is located in North Cape Coral off the Del Prado Extension. More about Bella Vida
Cape Royal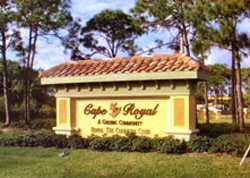 Cape Royal offers 27 holes of championship golf in a natural setting enhanced by 22 lakes. Cape Royal features of single-family homes and offers the security of a gated community and the flexibilty of a golfing optional community. Cape Royal is located in Cape Coral on Pine Island Road, north of Veterans Parkway. More about Cape Royal
Celebration Cape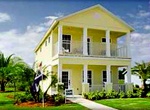 Celebration Cape is a gated community featuring single-family homes located in the southeast quadrant of Cape Coral. Celebration Cape features over-sized lots and unique zoning that supports larger garages, a true rarity in the City of Cape Coral. Celebration Cape offers an attractive alternative for RV and boat owners, car collectors and hobbyists to have an extra-large space. Community amenities include a playground, picnic pavilion, dog park and lakeside walking trail. Celebration Cape is located in Southeast Cape Coral on SE 8th Street, east of Santa Barbara Boulevard. More about Celebration Cape

Coral Lakes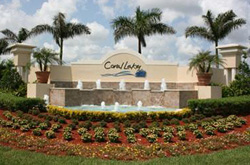 Coral Lakes is a 370-acre master-planned, gated community featuring 429 single-family homes and 308 town homes. Coral Lakes was developed by Transeastern Homes. Resort-style amenities include a clubhouse, fitness center, swimming pool and spa, volleyball, tennis, soccer and ball fields. Coral Lakes is located in Cape Coral on Del Prado Boulevard extension, east of Pine Island Road. More about Coral Lakes

Emerald Cove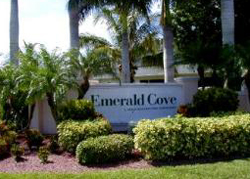 Emerald Cove is an established gated community of 101 single-family homes located in Southwest Cape Coral. About a third of the homes are located directly on the beautiful freshwater Weatherly Lake and offer boating to all the Seven Lake Chain. Emerald Cove amenities include a community pool, sandy beach, fishing pier, playground and party pavilion. Emerald Cove is Cape Coral's most affordable gated community. More about Emerald Cove
Heatherwood Lakes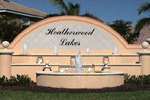 Heatherwood Lakes is a modern master-planned gated community with single-family homes located in desirable Southwest Cape Coral. Heatherwood Lakes amenities include a swimming pool, cabana, playground and five lakes. Heatherwood Lakes is located in Cape Coral on SW 20th Avenue, north of Veterans Parkway. More about Heatherwood Lakes

Palmetto Pines Estates
Palmetto Pines Estates is an intimate gated community of just 26 upscale homes located in Southwest Cape Coral. Palmetto Pines Estates is located adjacent to the Palmetto Pines Country Club and offers private access directly to the couses. More about Palmetto Pines Estates
Sandoval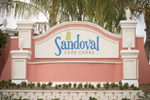 Sandoval is a gated master planed community with a Caribbean flair developed by Bonita Bay Group. Sandoval features lush landscaping, 20 lakes, underground infrastructure and a two-mile long linear park running through the center of the community. Sandoval amenities include a pool featuring a 100 foot water slide, fitness center, tennis, basketball, volleyball, bocce, calypso park with fishing pier and a dog park. Sandoval is located in Southwest Cape Coral at Veterans Parkway and Surfside Boulevard. More about Sandoval

Trafalgar Woods
Trafalgar Woods is an established, upscale gated community of 49 single-family homes located in Southwest Cape Coral. Over-sized lots and custom-built homes add to the exclusivity of this community. Trafalgar Woods amenities include tennis, playground, fishing pier, park and two lakes. More about Trafalgar Woods
West Cape Estates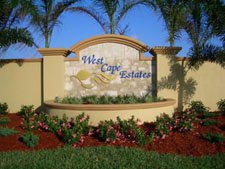 One of Cape Coral's newest communities, West Cape Estates offers gated luxury living in a stunning environment. Community amenities include a fitness center, tennis courts and a jogging trail. Gulf access home options are available in this exciting new community located in Cape Coral along Burnt Store Road, north of Tropicana Parkway. More about West Cape Estates
Explore Cape Coral Real Estate...