Wind, water, now what?
Posted by Mark Washburn on Monday, October 24, 2005 at 9:40 PM
By Mark Washburn / October 24, 2005
Comment
Wilma packs it punch on SW Florida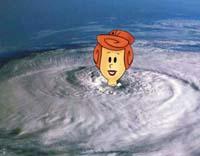 While watching the CNN coverage of the damage caused by Hurricane Wilma, I have had the opportunity to reflect on the impact of this storm to the local real estate market.
It would appear that Lee County has a lucky charm dangling somewhere with Charley hitting just to the north in Charlotte County and now Wilma just to the south in Collier County. Wilma certainly could not have hit the SW Florida coast in a location with a lighter population than Cape Romano.
A key factor regarding damage for homes in the path of a hurricane is the age of the structure. Buildings constructed after 1994 are built to a much stricter code that went into effect after Hurricane Andrew damaged 53,000 homes in the Miami area. With vacant land on Marco Island and Naples so scarce, much of the housing stock in these affluent communities is new. Older homes particularly those along the coast have been either torn down or extensively renovated and brought up to new hurricane codes.
While many of us are suffering from severs hurricane overload, it would not appear that this storm created enough damage to scare away winter snowbirds. Certainly the lack of a major storm surge sparred much of the region from the type of flooding that so devastated the New Orleans area. I think that many will have a false sense that the area can withstand any storm that nature can send our way.
The clean-up and repair activity from Wilma is sure to distract the already taxed construction industry here in SW Florida. Shortages loom for roofing materials, pool cages and labor as crews are redirected from new construction activity to repairing damaged buildings. This resource shortage will further drive up new housing prices throughout the region.
I expect this barrage of hurricanes will focus home buyers on the age of the structures and will depress interest in structures constructed prior to 1994 when the new codes went into effect. Expect an increased level of tear down activity to occur in the riverfront areas of Ft Myers and along the gulf access canals of Cape Coral. Older structures on land in these prized locations will prove detrimental to the value of the land.