Who is Arthur Rutenberg?
Posted by Mark Washburn on Monday, January 20, 2014 at 2:19:02 PM
By Mark Washburn / January 20, 2014
Comment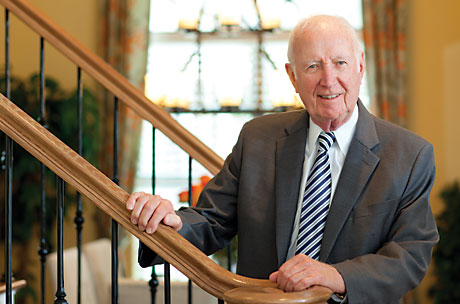 It is rare to look at luxury homes in upscale Southwest Florida neighborhoods without running into one developed by Arthur Rutenberg Homes….they seem to be everywhere.  So just who is Arthur Rutenberg and why are his homes seemingly ubiquitous throughout our luxury neighborhoods? Arthur Rutenberg Homes is one of America's largest luxury-home builders.  While there are some franchises in other states, most of the company's homes are built in Florida.  Arthur Rutenberg himself has been named by Professional Builder Magazine as National Builder of the Year; over the years he has had his brand name, as well as 10 years of developing and building in joint ventures with other established builders.  At age 83, Rutenberg is widely viewed by his peers as a housing historian.  In 1986, he was inducted into the Florida Housing Hall of Fame.  His home office is located in Clearwater, Florida. Today, Arthur Rutenberg Homes is a franchiser of home-building companies, known mainly for upscale single-family homes and villas.  Rutenberg has seen the highs and lows of the real estate market in the past 50 years.  Popular trends today, according to Rutenberg, are reduced size of some common area in homes; increased size of storage closets; and increased space and amenities in outdoor living areas. In Southwest Florida, Arthur Rutenberg Homes builds in prestigious communities and on owner's lots outside of these communities.  Communities where Arthur Rutenberg Homes is currently building include: Bonita Springs:
Palmira Golf and Country Club
Fort Myers:
Gulf Harbour
;
Renaissance
;
River Hall
;
Shadow Wood Preserve
;
Verandah
Estero:
Grandezza
;
Miromar Lakes
;
West Bay Club
;
Wildcat Run
Naples:
Lely
;
The Quarry
;
Twin Eagles
Pine Island:
Calusa Ridge
Our team is available to assist with new construction homes in these communities as well as looking at resale opportunities from Rutenberg and other fine builders.