Upscale renovating
Posted by Mark Washburn on Wednesday, October 26, 2005 at 10:07 AM
By Mark Washburn / October 26, 2005
Comment
Designer renovators are successful flippers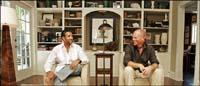 You won't find any Home Depot fixtures in a renovation completed by the designer renovating team of
Gordon Alvarado
. This team focuses on renovating under-sized and under-valued properties in the upscale resort areas including the Hamptons and Key West.
They target homes in serious disrepair that have the potential for volumetric expansion. Renovations are completed with high-end appointments and decorated with an eye for resale. When a property is resold, all furnishings and decorations are included for the new owner in a turn-key scenario
"We do something different from the speculative players," Mr. Alvarado said this week in a telephone conversation from Sag Harbor. "We're buying property that's undeveloped and increasing size and doing major renovations, creating a new product. So we're not only counting on increase in price from year to year, we have a margin between what it costs to build and what we sell for, and our margins have been rather good: 40 to 50 percent. If the market stays flat, the margin may narrow a bit, but even if it drops to 30 percent, we still have a good business model."
There certainly are opportunities for this type of custom renovating in SW Florida, particularly in the downtown area of Naples and on the barrier islands of Sanibel and Captiva.
Flipping With a Twist: The Camera-Ready Cottage
[NY Times]