Understanding The Homestead Exemption in Florida
Posted by Mark Washburn on Monday, April 13, 2015 at 1:20:03 PM
By Mark Washburn / April 13, 2015
Comment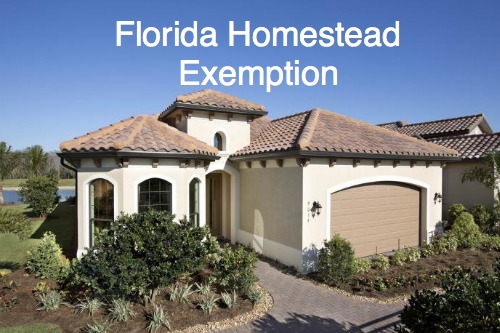 Florida is a wonderful place to retire; in addition to warm weather and no state income taxes, you can take advantage of its homestead laws. The Homestead exemption under Florida law can apply to one of three issues: exemption from forced sale before and after death; restrictions on devise and alienation; or exemption from taxation. To qualify as your Florida homestead, you and your home must have legal or beneficial title to the house on January 1; you must make this home your primary residence; and you must apply for this homestead exemption in person at the property appraiser's office in the county where your home is located between January 1-March 1 of the year you are seeking the homestead exemption. You only do this once, until you inform the property appraiser's office that the property is no longer your Florida homestead.
Exemption From Forced Sale For Bankruptcy
The first homestead exemption in the state of Florida's Constitution provides an exemption from forced sale before and after death. It provides no limit to the value of real estate property that can be protected from creditors. Florida's law is one of the most protective in the country. Florida's debtor protection sets forth that the value of the property that can be protected is unlimited, as long as the property occupies no more than ½ acre within a municipality or 160 acres outside of a municipality. Sometimes, people from other states with heavy debts or large court judgments against them may purchase expensive estates in Florida. This law places restrictions to whom you can leave your Florida homestead to after your death, depending on whether a spouse or minor children survive you.
Absolute Protection Against Demands Of Creditors
The second exemption offers almost absolute protection from forced sale to meet the demands of creditors. This exemption attaches proceeds from the sale of a home if the homeowner intends to use those proceeds to buy a new Florida residence within a reasonable time. The only exceptions would be to collect past due property taxes, or mortgage.
Exemption From Taxation On First $50,000 Of Value
The third homestead protection is an exemption from taxation that was enacted to ease the burden on homeownership exempting property taxes on the first $50,000 of a homeowner's residence. Therefore, it reduces the value of a home for assessment of property taxes by $50,000; it is only available on an individual's primary home.
Save Our Homes Amendment
Limits increases and decreases to the homes assessed value to 3% or the percent change in the Consumer Price Index. This amendment was designed to protect Florida residents on fixed incomes from being taxed out of their homes due to rapid increases in the assessed value of the property. Often the tax savings associated with the Save Our Homes Amendment are portable and can be transferred to a new Florida residence.