Ugly house shortage
Posted by Mark Washburn on Saturday, October 15, 2005 at 11:37 PM
By Mark Washburn / October 15, 2005
Comment
Fixer-uppers are tough to find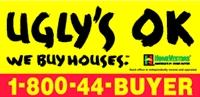 Buying ugly houses is getting harder and harder. Maybe that's because everyone is doing it.

The national real estate investing craze has made it harder for wholesalers like HomeVestors, the real estate franchise best known for its "We Buy Ugly Houses" billboard campaign, to ply their trade.

Investors across Southwest Florida are complaining about the tight housing inventory.

"With the market the way it is, the buys are few and far between," says Wayne Mitchell, owner of the Fort Myers franchise of HomeVestors. In past years, Mitchell's HomeVestors franchise has sold a lot of homes to investors who then rent or resell them. But the margins just aren't there anymore in the housing wholesale trade, Mitchell and other investors say.
Winning ugly [Naples Daily News]