TRIM Notice week
Posted by Mark Washburn on Thursday, August 31, 2006 at 2:38 AM
By Mark Washburn / August 31, 2006
Comment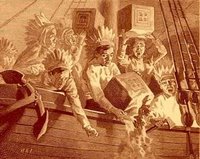 In this world nothing is certain but death and taxes.

--Benjamin Franklin
It is once again every Lee County investors least favorite time of the year, TRIM Notice week.
Mine came in an oversized manila envelope affixed with $0.87 worth of postage. With much trepidation, I sliced opened the heavy-duty envelope......slowly pulled the stack of papers out.....and voila.......most of my properties had doubled in value from last year with a corresponding tax increase. Some of the valuations are quite a bit higher than what I could sell the property for today.
The first thing that came to my mind was "maybe I should dress up in an Indian outfit like our founding fathers and dump some tea off the Sanibel Bridge." Probably not a good idea as the local authorities would most likely put me away for violating the Clean Waterways Act.
After cooling down, I read every last word of fine print on the back of the TRIM Notice and came away with the following tidbit, property value for the purpose of this TRIM Notice is the value on January 1, 2006. Unfortunately this is a challenging date for investors as values have dropped in many cases since that date.
Being an analytical sort, I ran some fair market value(FMV) analyses using direct sales comparisons on my properties and some of my customers properties. Unfortunately, it looks as though Ken Wilkinson and his team have in fact nailed the value as of January 1, 2006 on the properties that I looked at. Tragically, this is no longer a valid valuation, but according to the law, the taxes due are based on the older January 1, 2006 figure.
In looking for a bright spot, the only solace that we can take in this situation is that we will get the benefit of lower January 1 valuations once property values start to increase again.