Title insurance costs
Posted by Mark Washburn on Monday, March 6, 2006 at 9:52 PM
By Mark Washburn / March 6, 2006
Comment
How much is it and why do I need it?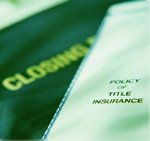 One of the most common questions and searched phrases on this site is about the cost of title insurance. Typically in SW Florida, the seller pays the title insurance cost and is one of the key items commonly referred to as "closing costs."
Just what is title insurance?
Title insurance is an insured statement of the condition of the title to your property and the ownership rights to that piece of property. A title insurance policy describes your property in detail, and states what limitations there are to your ownership. For a one time premium, the title insurance company agrees to reimburse you and/or the lender up to the amount of the policy for loss suffered due to defects that existed prior to the date of your policy. Your lender will require title insurance coverage to protect the amount of the loan. An owner's policy of title insurance will be offered to you at your settlement to protect your interest in the property.
Current rates for title insurance are as follows:
up to $100,000.......................................$5.75 per $1,000
Over $100,000 up to $1,000,000.............$5.00 per $1,000
Over $1,000,000 up to $5,000,000.........$2.50 per $1,000
Over $5,000,000 up to $10,000,000.......$2.25 per $1,000
Over $10,000,000..................................$2.00 per $1,000
The minimum premium is $100.00. For a $300,000 house the cost of title insurance would be $1,575.00(100 x $5.75 + 200 x $5.00 = $1,575.000).
It is extremely important to have title insurance policy in place for all real estate purchases. Just in the past year I have seen a several scenarios where title problems were uncovered. In one case, a friend of mine unknowingly bought a lot from
Ben-Ari
, of Delray Beach, FL, who was forging signatures on deeds of deceased lot owners. My friend no longer owns the parcel, but was a bit surprised when the FBI showed up at his door to investigate as they were following the chain of ownership on the lot.
There are many very good title companies operating in SW Florida, I have repeatedly received excellent service from the team at Bay Title Services in Cape Coral, tel. 239-772-1115.