The Wrong Lot
Posted by Mark Washburn on Friday, June 13, 2008 at 1:04 PM
By Mark Washburn / June 13, 2008
Comment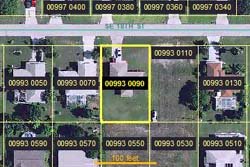 Interesting story about a house that was incorrectly built on the adjacent
Cape Coral vacant lot
. It befuddles me that a house could be on wrong lot for 11 years and even through a sale without the error being discovered until the current homeowner decided to install a pool.
This story has attracted a large number of comments with the majority suggesting that the lot owner should swap properties and accept the adjacent vacant lot. The Maryland-based lot owner comes across as a tad bit petty suggesting that he would not be satisfied with a simple swap of properties.
Ultimately, It seems to me that Sunshine Title of SW Florida, the title company that handled the
last transaction
involving the sale of the house, would be responsible for making the homeowner whole.
I had a similar experience a couple of years ago in Cape Coral due to a surveyor mistake about a property line and a slab was built half-way on my lot. Fortunately, I was in the process of selling the lot and the error was discovered with just the slab in place. Once the error was identified, the builder expeditiously removed the slab and started over in the correct location. Although the vacant lot sale was delayed about a week, everything worked out just fine on that transaction.
House dreams turn to nightmare in Cape Coral [News-Press]