The Sanibel Island Lighthouse
Posted by Mark Washburn on Monday, February 3, 2014 at 6:26:53 PM
By Mark Washburn / February 3, 2014
Comment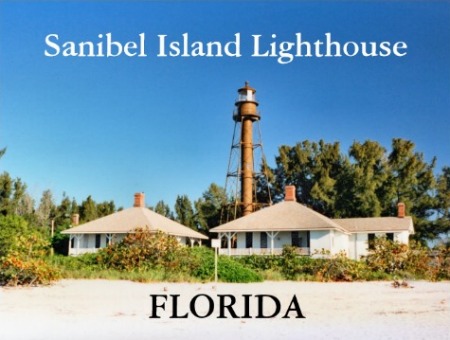 The 120-year old lighthouse on Sanibel Island may not be open to the public but the grounds are, and it's worth a close up look since there is convenient beach access to get here and take some nice photos and to collect seashells.  The Sanibel Island Light is the first lighthouse on Florida's Gulf Coast north of Key West.  It is located on the eastern end of Periwinkle Way and was built to show the entrance to San Carlos Bay for ships calling at the port of Punta Rassa. 
Punta Rassa
was an important port in the 1830s through the Spanish-American War.  It was mainly used to ship cattle from Florida to Cuba.  The lighthouse was officially placed on the National Register of Historic Places in 1974.  The Coast Guard leases the lighthouse to the City of Sanibel. The crescent-shaped Sanibel Island in Florida's southwestern coast runs in an east-west direction.  Positioned sideways to the flow of the Gulf, the current scoops up a vast amount of seashells.  Known worldwide for its shelling, Sanibel Island attracts seashell collectors to the island.  Back in 1883, Congress funded money to supply a lighthouse on Sanibel Island between Key West and ports on the west coast of Florida.  Trade was big and a great number of sailing vessels passed through Florida to reach landfall here and depart from here as well.  Work on the lighthouse began in 1884. Henry Shanahan originally became the assistant keeper at the lighthouse after applying for the position, and later promoted to head keeper.  The Coast Guard electrified Sanibel Island Lighthouse in 1962 from gas when the causeway was completed.  In 1972, the City of Sanibel assumed management of the lighthouse after the Coast Guard wanted to discontinue it.  The City uses a state historic preservation grant and money from its beach-parking fund to restore and preserve the lighthouse property. The East End location of the Sanibel Lighthouse is a popular area for both year-round residents and visitors alike, here is a resource to explore
Sanibel East End real estate
options.