The Iconic Sanibel Lighthouse
Posted by Mark Washburn on Wednesday, January 22, 2020 at 11:54:20 AM
By Mark Washburn / January 22, 2020
Comment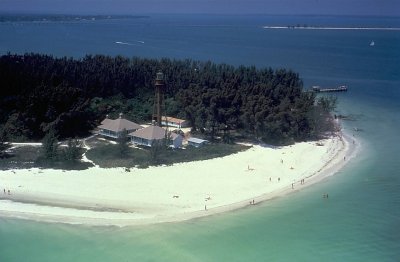 An island known for its beautiful beaches and plentiful shelling is sometimes recognized for an entirely different reason. The iconic Sanibel Lighthouse welcomes visitors to the island today just as it has for generations.
That's because the very same lighthouse has stood on the island for well more than a century. Located on the very eastern tip of Sanibel Island, the main purpose of the lighthouse was originally to alert ships to the entrance of San Carlos Bay.
While it's still utilized by the U.S. Coast Guard in guiding ships traveling along Florida's Gulf Coast, the lighthouse also serves as a landmark of sorts for the region. It even has a spot on the National Register of Historic Places.
According to historical records from its beginning, the Sanibel Lighthouse actually sank off the coast of the island in the late 1800s in route to its current location. Luckily, local legend says divers were able to recover the majority of the lighthouse from the downed ship and construct it on the island.
At 98-feet high, the lighthouse was built to withstand hurricanes. Two lighthouse keeper cottages sit at its base.
While the public can access the grounds surrounding the lighthouse, the light itself is not open to visitors. Still, many visitors to the island use the lighthouse as the backdrop for photographs.
The location also offers up a large parking lot for visitors to the beach, plus it provides easy access to a nearby fishing pier and nearby facilities. It's also a good spot to go fishing, spot some native birds and marine life, or do some shelling while on the island of Sanibel.
The Sanibel Lighthouse was one the very first lighthouses to go up in this part of Florida. An identical lighthouse to the one on Sanibel stands on Cape San Blas in Gulf County, Florida.