The Fountains Development
Posted by Mark Washburn on Thursday, December 15, 2005 at 1:08 PM
By Mark Washburn / December 15, 2005
Comment
4200 homes proposed for area south of Lehigh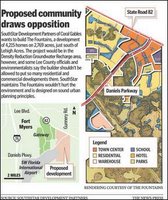 SouthStar Development Partners
of Coral Gables has filed an application to build a new community south of Lehigh and adjacent to Gateway and SW Florida Regional Airport. The proposed development titled
The Fountains
would cover 2,769 acres and include 4,215 homes.
Kimball Woodbury, managing director of Coral Gables-based SouthStar Development Partners, acknowledged that the major hurdle for the project is that most of it is in the county's Density Reduction Groundwater Recharge area.

Houses there are limited to one per 10 acres of dry land or one per 20 acres of wetlands to help preserve the county's water quality.
There ought to be a creative way to fill in Lehigh neighborhoods before opening up major pristine parcels like this one to residential development.
New East Lee community iffy [News-Press]