The Appeal of Multi-generational Homes
Posted by Mark Washburn on Monday, April 13, 2020 at 7:03 PM
By Mark Washburn / April 13, 2020
Comment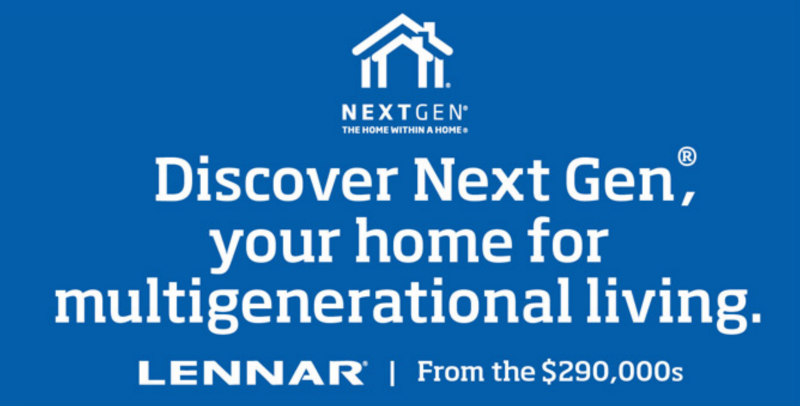 As the nation's older population ages, more and more homebuyers are seeking out an alternative to traditional home designs. Many are now searching for a home that not only works for their immediate family members, but also sometimes their extended family members.
Some research already suggests about 20-percent of Americans live in a multi-generational household. That's likely led to a rise in the appeal of multi-generational homes, especially in cities like Fort Myers.
Lennar Homes, in particular, is using the trend to market its NextGen 'Home with a Home' program. Lennar is rolling out the program in around a dozen Southwest Florida communities, with designs that provide additional private living space within a traditional family home design.
This may include features like private entries leading to home space with a bedroom and bath and an extra eat-in kitchenette and living room. It's even possible to find some floor plans with a private garage.
Lennar recently introduced two new NextGen model homes to the region. One plan includes around 2,500 square feet of living space with five bedrooms and 3.5-baths. The separate 'home within a home' tacks on another bedroom and bath, a living room, a dining nook and a kitchenette.
Another floor plan from Lennar is around 3,000 square feet in size with six bedrooms and 4.5-baths. Its 'home within a home' space tacks on another 800 square feet of space to the floor plan.
Lennar is building its NextGen designs in neighborhoods like Reflection Isles. The homes of Reflection Isles from Lennar start at around 1,300 square feet of living space, with some of the largest, multi-generational plans exceeding 3,300 square feet of space.
The largest two-story floor plan from Lennar in Reflection Isles dedicates an entire wing of its ground floor to a separate living space; ideal for multi-generational families.