Stonewater: New Community Proposed For Northwest Cape Coral
Posted by Mark Washburn on Friday, June 19, 2015 at 10:08 PM
By Mark Washburn / June 19, 2015
Comment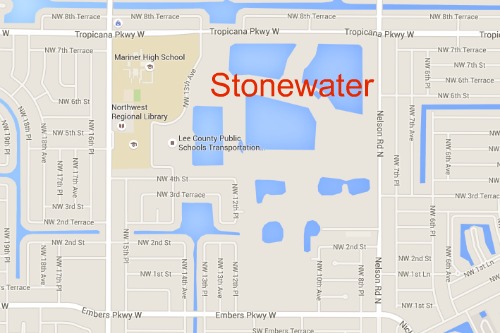 Stonewater, a former mining operation in North Cape Coral, won unanimous support by the Planning and Zoning Commission last month to move forward with a development project to build 337 single-family homes overlooking three lakes with two recreation centers.
The Commission recommended to the City Council to support re-zoning 150 acres of the property located on the corner of Tropicana Parkway and Nelson Road behind Mariner High School. Seventy percent of the Stonewater lots will have lake or preserve views. A park, the preserves and a local community center will be within close walking distance of the new homes.
Windham Development, Inc., a Michigan developer with experience successfully building housing developments on sites of former mines, is calling this new development project Stonewater. It is the same name that Windham used for a reclamation home building project in Northville Township, Michigan. That development consisted of 424 single-family homes on more than 360 acres of a former gravel pit with six lakes and a trout stream. The result was so successful that the Michigan Building Association named it Development of the Year in 2002.
Cape Coral city leaders must still approve the development. The City Commissioner supports the project, and hopes it spurs commercial development in Cape Coral.
There are four schools within a mile of the site. Stonewater's water and sewer services will be coordinated between Windham Development and the city. The city's Utilities Expansion Project is expected to bring services to the area but if there are delays with the expansion, then Windham will step in and provide the necessary services, according to the company.
Construction is expected to be completed in December 2017. The development plan protects a Bald Eagle's nest and two preservation areas. The developer says the development proposal could look like Coral Lakes or Sandoval community styles. The open land previously had been a cow pasture surrounded by a barbed wire fence. If you can't wait until Stonewater is delivering, here is a resource to veiw Cape Coral new construction homes currently listed for sale.