Southwest Florida Fishing Piers
Posted by Mark Washburn on Wednesday, June 3, 2015 at 10:02:46 AM
By Mark Washburn / June 3, 2015
Comment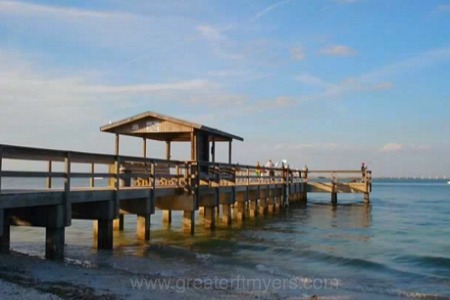 One of our favorite pastimes is fishing.  Southwest Florida has many great spots for fishing, as well as catching great views of the beach and the sunset. We've put the spotlight on our favorite fishing piers in the area: Cape Coral Yacht Club, Fort Myers Beach and Sanibel. You don't need a boat, you can just head to one of these piers with your fishing pole and bait box.
Cape Coral Yacht Club Fishing Pier
The Cape Coral Yacht Club has a great fishing pier. Located at 5819 Driftwood Parkway in Cape Coral, there is fishing on the pier, snacks on the boardwalk, and a top spot for a walk on the beach. A large and well-maintained community pool and a nice snack bar can be found here. The park is a wonderful retreat for families.
Cape Coral
enjoys more than 400 miles of canals---more than any other city in the world! The Cape Coral Yacht Club has a nice clean beach for families in addition to free parking. The Clubhouse hosts parties and events. There are also tennis courts and racquetball. Many big fish are caught from the Cape Coral Yacht Club pier.
Fort Myers Beach Fishing Pier
USA Today has named the Fort Myers Beach Fishing Pier as "1 of 10 Best Destinations." It's a superb pier for fishing, people watching, walking, and relaxing in the sun or photography. The Fort Myers Beach Pier is a destination. It extends far into the Gulf of Mexico. The pier is a hub of recreational activities, whether for beachgoers, parasailers, dolphin watching, listening to live music, watching the fishermen (or fish yourself!), and catching a sunset. There is a snack stand and gift shop on the pier. On the weekends, there is live music on the pier with bands and performers, as visitors enjoy the music and the sunsets. It's located at 950 Estero Boulevard in
Fort Myers Beach
.
Sanibel Pier
For serious fishermen, Sanibel's Pier along with the beach in front of the Sanibel Lighthouse are interesting places to fish, especially for fishermen who don't use boats. The channel in front of the pier is deep with strong currents that trap baitfish. Thousands of fish move from Estero Bay and the Gulf of Mexico, and go through this channel every day as they pass through on their way to the Lighthouse and swim up to the Pine Island Sound. The flats across from
Punta Rassa
offer wade fishing.  In addition to the pier, fisherman have other hidden-away favorite spots to fish throughout
Sanibel Island
.