Solar-powered Babcock Ranch Makes it through Hurricane with No Loss of Power and Minimal Damage
Posted by Mark Washburn on Wednesday, October 12, 2022 at 6:54 PM
By Mark Washburn / October 12, 2022
Comment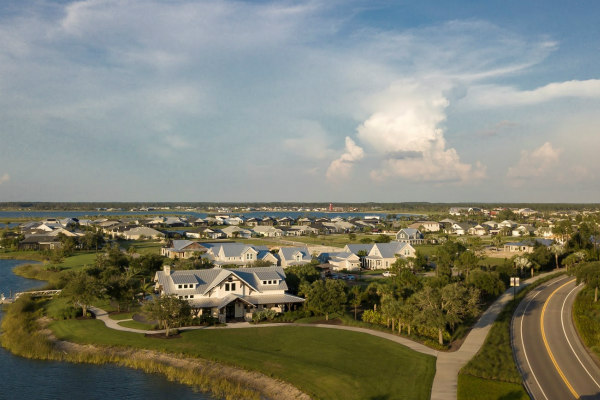 Hurricane Ian sadly left its mark on parts of Florida, damaging homes and uprooting livelihoods. But there's one Florida community that remarkably made it through the hurricane with no loss of power and only minimal damage to area homes and businesses.
Babcock Ranch is only about 12 miles from Fort Myers, but you'd hardly know it by looking at the community today. Coined "America's first solar-powered town", Babcock Ranch's uniqueness is likely what helped homeowners escape some of the damage we're seeing in other Florida communities.
To begin with, the streets of Babcock Ranch were designed to flood in a way that spares the homes. Roadside landscaping helps with storm water control, while internet and power lines are buried underground to help escape wind damage.
That was likely a big advantage in this past storm. There are also many homes in Babcock Ranch with additional battery systems installed and solar paneled roofs.
While strong winds of more than 100 miles per hour knocked out power to more than two-million Florida customers, including most of Charlotte County from the hurricane, the power stayed on in the community of Babcock Ranch. That's not to say there was zero damage.
There were some shingles torn off roofs, and there was some lesser damage to area buildings. There also were some uprooted trees.
Overall, though, there's really no major damage to speak of in Babcock Ranch from the storm. Some say its further proof this solar-powered town and eco-conscious community is truly capable of withstanding even the force of an almost Category 5 storm. The State of Florida was even able to use Babcock Neighborhood school as a shelter, giving others a place of safety.
The first residents of Babcock Ranch moved into the innovative community just a few years ago. Babcock Ranch is home to a solar farm that produces renewable energy. You'll also find solar trees in the town that double as charging stations.
Search Babcock Ranch by Neighborhood