Shuffleboard—Fort Myers' Unofficial Pastime
Posted by Mark Washburn on Friday, November 28, 2014 at 10:00:14 AM
By Mark Washburn / November 28, 2014
Comment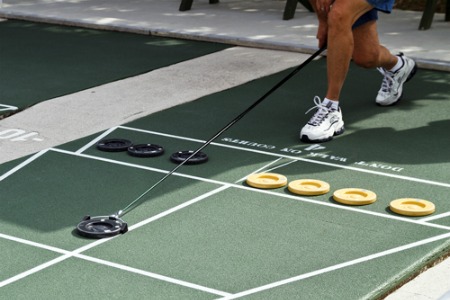 If Family Feud was to ask "
what is the most popular recreational activity in Fort Myers?
"  Shuffleboard would certainly be on the list.   Also known as "deck shuffleboard," it is a game in which players use broom-shaped paddles to push weighted pucks, sliding them down a court with the object of the game to land within a marked scoring area. The game was invented in Europe 500 years ago and was played by King Henry VIII of England. Today shuffleboard is popular on cruise ships and retirement communities because of its low physical activity.  Many 55+ active adults enjoy this game. The Florida Shuffleboard Association has more than 13,000 members, and assists in the formation of new clubs as well as directs statewide tournaments and contests. The Estero Shuffleboard League is active with a full roster of teams and a busy social calendar. The Fort Myers area is home to a number of
55+ active adult communities
that have many active shuffleboard players.  Additionally, active shuffleboard programs can be found throughout the area.  If you are interested in finding a home in a community in Fort Myers with an active shuffleboard program, the
Team
at Greater Fort Myers Real Estate is here to assist.