Shifting construction strategy
Posted by Mark Washburn on Thursday, September 8, 2005 at 2:14 AM
By Mark Washburn / September 8, 2005
Comment
Movement to more affordable starter homes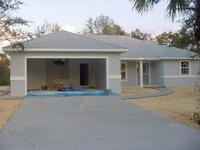 Recent housing data shows an interesting twist. For the first time, the median price of new homes is below that of existing homes. In short, new homes are getting cheaper and more are being sold, while existing homes are getting more expensive and less are being sold vs. the recent past.
This data reflects a "big shift in the kind of homes being built," says Sam Lieber, portfolio manager with Alpine Funds, portfolio manager for the $900 million
Alpine U.S. Real Estate fund
, which is about 50% in homebuilder stocks. Homebuilders are now focusing more on affordable homes for first-time homebuyers rather than high-end properties, he says.
Lieber's assessment of the home building shift may not be as relevant in this market where so much of the single-family housing stock is focused on the starter home buyer. Our valuations are skewed by the land value particularly whether or not the property is located on or near water.
Real Estate Review: Subdivisions
[The Street.com]