Rediscover History at the Ford & Edison Winter Estates
Posted by Mark Washburn on Wednesday, June 5, 2019 at 7:11:17 AM
By Mark Washburn / June 5, 2019
Comment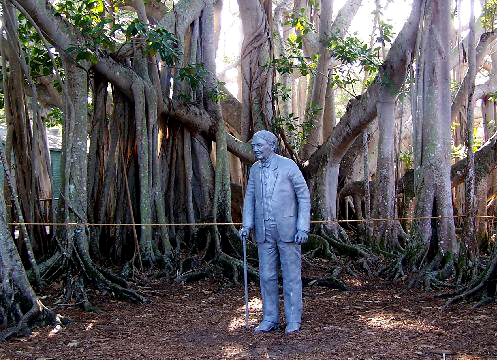 Complete with gardens, a museum and historic homes, the Ford & Edison Winter Estates provide the perfect excuse to take a stroll back in history. Located along McGregor Boulevard in Downtown Fort Myers, the estates combine to form one of the nation's most visited historic home sites.
Made up of more than 20-acres, the property is considered a National Register Historic Site. A majority of furnishings in the Edison Main House and its Guest House once belonged to the Edison family.
One of the oldest structures in Fort Myers, however, is the Edison Caretaker's House. A smaller version of the home was already on the property when Edison first purchased it in the late 1800s.
The site also features a swimming pool that dates back to the early 1900s, as well as a study. The Edison family owned the Main House for decades before eventually deeding it over to the City of Fort Myers in the mid-century.
Now part of the same historic site as the Edison homesite, Henry Ford purchased a riverfront home just adjacent to Edison in the early 1900s. The Ford's owned The Mangoes until about the mid-century, when they too sold it off to a private family, who later sold to the City of Fort Myers. It opened to the public in 1990.
The Ford Caretaker's Cottage is now used to dish up locally made ice-cream, and to house a gift shop. Other options for visitors include taking a stroll through the gardens. The property's largest and most formal garden is the Moonlight Garden. It's filled with flowering plants, shrubs and a reflection pool.
The estates are open most days of the year. When you go make sure to give yourself plenty of time to explore. Most guests take at least a couple of hours to stroll through the property, but guided tours are available.