Rebel investor
Posted by Mark Washburn on Saturday, December 31, 2005 at 4:17 AM
By Mark Washburn / December 31, 2005
Comment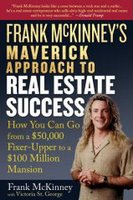 Not your typical REI
Frank McKinney is a rebel.....the shoulder length hair is a unique look in the world of real estate investing. In his latest book,
"Frank McKinney's Maverick Approach to Real Estate Success: How You Can Go From a $50,000 Fixer-upper to a $100 Million Mansion"
offers the following tips:
Don't expect to get rich overnight.


Do your homework.


Pay attention to details.


Plan for every contingency.


Be prepared to work very, very hard.
McKinney's latest project is a $125M spec waterfront mansion in the Palm Beach County town of Manalapan. The house has 14 bedrooms, 22 bathrooms and a 16 car garage. Real estate rebel paves path to riches [Detroit Free Press]