Realtor blogs
Posted by Mark Washburn on Saturday, February 11, 2006 at 12:27 AM
By Mark Washburn / February 11, 2006
Comment
Gulf Returns featured in Florida Realtor Magazine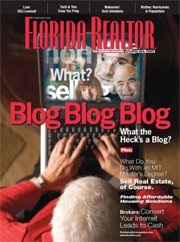 Florida Realtor Magazine has a cover story this month about Realtor blogs and prominently mentions this site in the article [blatant self-plug]. Gulf Returns has a significant amount of information about the SW Florida real estate market and real estate investing in general. If you are here for the first time check out the archives, which contain nearly 500 real estate related postings. If you are curious about me, my post titled
The Four Ws
, provides some background on me and why I started this site. The parcel outlined in the title bar at the top of Gulf Returns was the first property that I purchased in SW Florida.
My First Deal
chronicles the life-cycle of this investment. Here is an excerpt from the Florida Realtor Magazine story:
As a first-year real estate associate, Mark Washburn knew he had to build redibility, and quickly, if he wanted to succeed in an increasingly competitive business. So Washburn, an associate with the Cape Coral office of Island Coast Realty, turned to his blog: Gulf Returns Washburn has been running this real estate investment Web log for about 13 months - longer than he's been working as a real estate associate. He spends about 30 minutes a day updating the online journal, writing about the price gains in his market, the struggles developers face when angling for building permits, the steps that members of the real estate community are taking to slow the pace of real estate flipping and other topics that investors in residential real estate would find intriguing. By doing so, Washburn shows buyers and sellers not only that he understands the real estate market in Southwest Florida, but that he knows enough about it to run a busy online diary outlining the market highs and lows.
What The Heck is a blog?
[Florida Realtor Magazine]