Property taxes due
Posted by Mark Washburn on Friday, March 24, 2006 at 11:55 AM
By Mark Washburn / March 24, 2006
Comment
Time to pay-up Lee County property taxes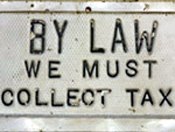 Just a friendly reminder that 2005 property taxes are due next Friday, March 31, 2006.
It is not a problem if you are like me and circular-filed those tax bills that came last fall. The
Lee County Tax Collector
has an on-line payment tool that will let you put multiple parcels in a shopping cart and make a single payment. They offer the option of using a credit card or via bank transfer. There are no additional fees with a bank transfer, but the credit card option does include additional charges.