Pine Island Road Prospering
Posted by Mark Washburn on Friday, January 18, 2019 at 11:52:02 AM
By Mark Washburn / January 18, 2019
Comment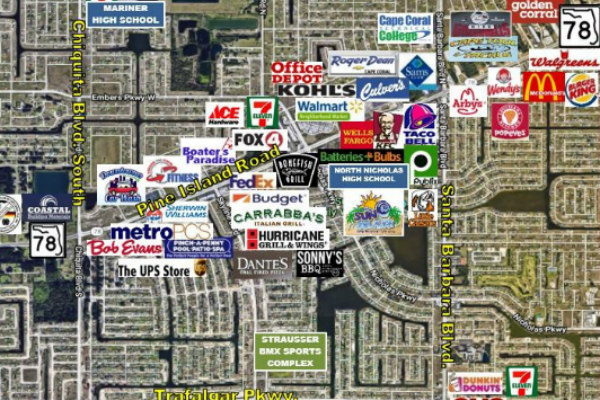 Once regarded as a quiet two-lane roadway, Pine Island Road is virtually unrecognizable these days. The area is definitely prospering, as more and more businesses open up along one of Southwest Florida's most popular new business corridors.
Over the past 20 years or so new retailers, chain restaurants and car dealerships have popped up along this emerging roadway. While some businesses have since moved on from the area, others have simply moved into the empty spots. The old two-lane road is now a divided four-lane road, widened once again just a few years ago.
It's something city leaders have pushed for, bringing more businesses into the city's center. The booming commercial development, though, is likely a direct reaction to the booming housing market in the same general area.
More jobs and more housing mean more of a need for new businesses to fill a role in the city. As new home permits soar so do new commercial building permits, with about one-third of commercial permits in Cape Coral over the past five years or so involving property sitting along Pine Island Road.
Even so, hundreds of acres of commercially-zoned property still lines both sides of Pine Island Road, ushering in the likelihood of even more development in the future. For developers it presents options, as a great deal of land in Cape Coral is already divided into residential lots or canals, making it more difficult to find a place for commercial development in the city.
As some big box retailers across the nation struggle financially, landowners in the area shift to target future businesses that are more appealing to the millions of millennials that are likely just entering the housing market. Meanwhile, other potential uses for the vacant land could be for new grocery stores or even aimed at developers of future apartment complexes.