Permitting delays plague region
Posted by Mark Washburn on Monday, August 29, 2005 at 4:50 PM
By Mark Washburn / August 29, 2005
Comment
Pace of growth swamping permitting officials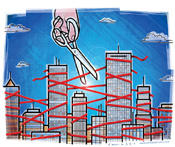 As the availability of quality buildable land in Collier County grows scarce, builders are turning to parcels which require greater scrutiny and review.
Delays in permitting these parcels are drastically restricting the pace of homes and condominiums coming onto the real estate market. Federal, state, and local permitting delays are holding up the development of at least 8,100 new homes and condominiums in large-scale developments in Collier County, a number that's more than all the new homes and condos built in Collier last year.
With growth from 102,000 to 144,000 residents in just five years, Cape Coral is also bracing for new construction delays if the city doesn't apply soon for permits to expand its wastewater treatment plants. The city is growing so fast that the demand for services in areas where there are sewer lines could outstrip the city's ability to treat sewage before the expansions are completed.
These permitting delays throughout the region are certainly not going to help keep prices in check. While painful for those with a financial stake in these new developments, on a macro level it is probably healthy for the region to slow growth of some of these large-scale developments.
Permitting delays contributing to area's surging home prices
[Naples Daily News]
Lack of permits could delay new homes [News-Press]