Oversupply...time to fly?
Posted by Mark Washburn on Sunday, August 28, 2005 at 1:59 PM
By Mark Washburn / August 28, 2005
Comment
Growing inventory bears watching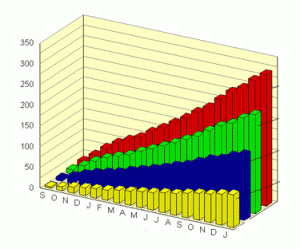 Could the growing quantity of listings be the pin that pricks the real estate bubble? A recent MarketWatch article cites the Naples market as having a very high ratio of listed properties to the total supply of housing. Currently, the number of existing home listings on Realtor.com for Naples stands at roughly 3,300 single-family homes and condominiums. With only 21,000 total housing units, approximately 15% of the total Naples housing market is for sale. For comparison sake, Phoenix has approximately the same number of listings on Realtor.com but has a total housing market approximately 25 times larger. In Lee County the market is slowing for luxury homes priced over $1M. Typically, these homes are purchased by trade-up buyers or retirees looking to invest a large gain from a home sale up north. It will be interesting to see if this market picks up with the winter season fast approaching.
The new kids in the real-estate craze
[MarketWatch] registration required