Our Favorite Sushi Restaurants in Fort Myers
Posted by Mark Washburn on Sunday, February 8, 2015 at 9:26:18 AM
By Mark Washburn / February 8, 2015
Comment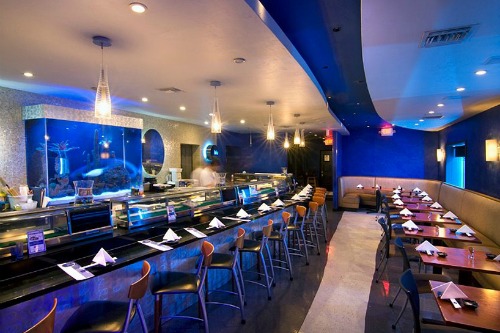 With the open waters of the Gulf of Mexico just off our shores, the Fort Myers area is a mecca for fresh fish and home to some of the best Sushi restaurants in the Sunshine State. Foodies on our staff have had the pleasure of exploring dining spots to come up with our favorite sushi restaurants in Fort Myers.  Our top three picks for the best and freshest sushi in Fort Myers are: Blu Sushi, Sans Sushi and Origami.
Blu Sushi
Blu Sushi has a stylish décor and atmosphere that delivers exceptional cocktails in addition to its flavorful sushi. Blu Sushi is located at 13451
McGregor Boulevard
in Fort Myers, featuring mouth-watering miso soups, seaweed salads, edamame and tuna appetizers in addition to a varied selection of sushi and sashimi. The Blu-labeled sake, teas and specialty cocktails provide a hearty selection of fine drinks within this social restaurant, complete with music and blue-adorned furnishings welcoming customers.
Sans Sushi
Sans Sushi in
Cape Coral
could be called a paradise for sushi lovers, as it carries more than 50 types of sushi on its menu. Formerly known as Sushiyaki, Sans Sushi has operated on the South Cape for 10 years. Located at 1306 Cape Coral Parkway E, the restaurant delivers savory food (like its "honeymoon roll" and "hurricane roll") for lunch and dinner with its exotic family recipes. In addition to sushi, other Japanese and Thai cuisines are featured on the menu as well as daily specials created in the restaurant. An outdoor patio along Cape Coral Parkway is an inviting spot for casual outdoor dining.
Origami
Rounding out our Top 3 sushi restaurants in Fort Myers, Origami Restaurant serves up Japanese and Korean fine cuisine. Located at 8911
Daniels Parkway
in Fort Myers, Origami has been cooking authentic traditional Asian fare since 1994. It offers a wide variety of sushi and sashimi, including tasty sea urchin, fresh salmon and shrimp. Open every day for lunch and dinner, we especially like their Bento boxes for lunch, and tempura and teriyaki for dinner marinated in their homemade sauces. Origami prides itself on quality service with a motto that it treats its customers like family.