More Retail Coming to Babcock Ranch
Posted by Mark Washburn on Saturday, July 1, 2023 at 10:46:50 AM
By Mark Washburn / July 1, 2023
Comment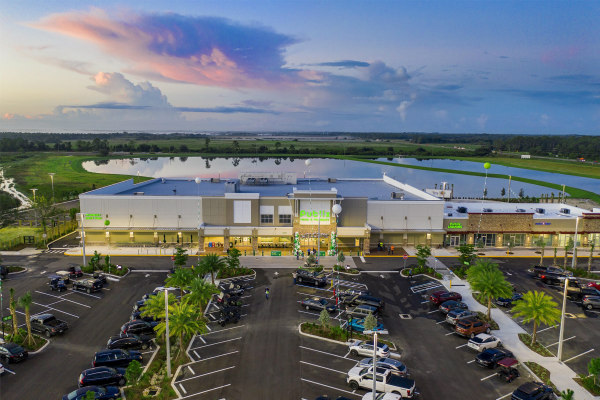 While Babcock Ranch has already gained a lot of attention for its new homes and innovative additions, even more is planned for the what's been dubbed the nation's first solar powered town. More retailers are headed to Babcock Ranch, with phase two of the development pushing ahead.
Called Midtown, the second phase of development includes a half-dozen new neighborhoods, some parks within a park, and some new amenities for the master-planned community. The Midtown phase is set to include a mixed-use town center, complete with some new shops and dining options, as well as some office space and apartments.
Crews are expected to break ground on the new Shoppes at Yellow Pine sometime later this year. That will eventually provide 120,000 square feet of new retail, office, commercial and restaurant space.
Plans call for a lakefront restaurant to go in, plus it's likely the new retail space could attract not only shops, but also possibly some services, medical offices, and even a hardware store. The size of the development is expected to be about one-and-a-half times as large as Crescent B Commons.
Anchored by a grocery store, Crescent B Commons officially opened less than two years ago. As of just a few months ago, it was already close to full capacity. Construction is currently underway on a new freestanding supermarket, as well as a Starbucks.
As the greater community of Babcock Ranch continues to grow with more homes and residents, so does the need for additional nearby conveniences. The sustainable community focuses on the natural environment, with land set aside for lakes, parks, and greenways.
The central, social hub of Babcock Ranch is Founder's Square, which serves as a gathering place of sorts along the banks of Lake Babcock. This is where you'll find lakefront dining, an ice cream shop, and more. Already, there are more than a dozen of neighborhoods that exist, or are coming soon, to Babcock Ranch.
Search Babcock Ranch by Neighborhood