Midtown Fort Myers Comes into Focus
Posted by Mark Washburn on Thursday, June 9, 2022 at 11:52 AM
By Mark Washburn / June 9, 2022
Comment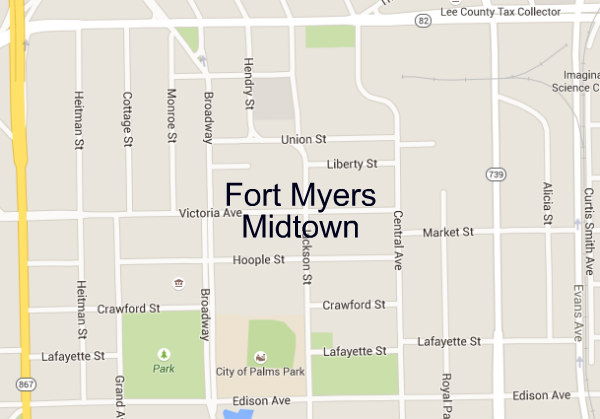 The Downtown Fort Myers River District is already a destination in itself, and that has developers and local leaders now turning their attention to what's being called the next stage of city growth. After years of talking, a plan to finally remake Midtown Fort Myers is coming into focus.
The area in question is just to the south of Downtown Fort Myers, bound by US 41 to Fowler Street, Dr Martin Luther King Jr Boulevard to Edison Avenue. While a plan to redevelop Midtown has been talked about for years, some city leaders say now is the time to start making it happen.
The city already owns about half of the land in Midtown, and there are lots of ideas on how to remake the area. Although Midtown is technically developed, the current plan is to remake it into a modern, urban community.
Expected to someday be looked at as an extension of downtown, future plans could include a new pedestrian mall stretching from the police department to City of Palms Park. Area streets are already sometimes closed for special events, but a pedestrian walkway would make it a permanent addition.
This plan includes several phases of development to improve Midtown's walkability and make it better for biking. It could also include eventually adding a bike path from Midtown to Downtown Fort Myers.
Other development includes new apartments. One new building plans for around 300 units bordering Central Avenue.
Meanwhile, an old shopping center is expected to be torn down later this year, creating space for another 300+ unit apartment complex. It will likely also include a parking garage, tens of thousands of square feet of retail space and a microbrewery.
There's some debate over the future of the neighborhood's old News-Press building. While the city could use it for public services, some say it also could be turned into a private sector project, serving as a gateway to Midtown and the downtown area. There's also some discussion about the future of City of Palms Park. The former spring training home of the Boston Red Sox is currently rented out by youth and college teams.