Marina South at Cape Harbour
Posted by Mark Washburn on Monday, August 7, 2006 at 1:58 AM
By Mark Washburn / August 7, 2006
Comment
Cape Coral project open to aclaim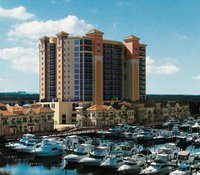 The first tower at Cape Harbour's 15 story Marina South is completed and residents started moving in on Friday. This project, which features retail establishments on the ground floor, is another notch in Cape Coral's coming of age. A second matching tower will be opening in May 2007.
Back in March 2005 when the pre-sale was held via lottery, Marina South sold out in just hours. In city yearning for upscale ammenities, Marina South offers a new lifestyle choice for its residents.
Currently
Marina South
units are available from the the high $300,000s through $1M.
Unique condo community welcomes its first residents [News-Press]