Living with History Along McGregor Boulevard
Posted by Mark Washburn on Monday, September 23, 2013 at 10:18:11 AM
By Mark Washburn / September 23, 2013
Comment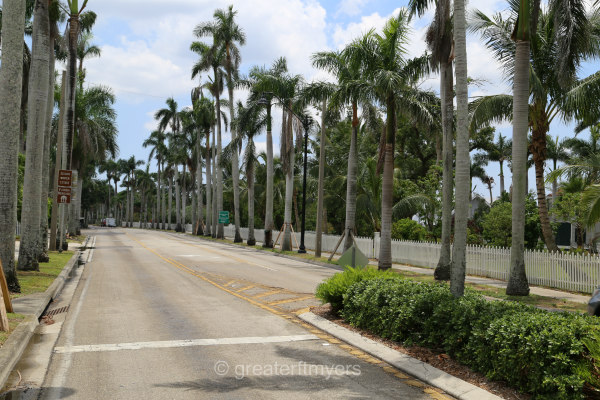 Historic McGregor Boulevard runs from Downtown Fort Myers to Punta Rassa near Sanibel and features a grand collection of luxury estate homes and a dramatic canopy of mature Royal Palm trees. McGregor Boulevard is a stunning corridor running alongside the Caloosahatchee River.
This thoroughfare is steeped in the rich history of Fort Myers and offers a look back into Old Fort Myers in its early years. Fort Myers' rich history begins with Native Americans and famous inventors. Thomas Edison, Henry Ford, and Harvey Firestone built winter homes in Fort Myers after visiting during the late 1800s.
According to folklore, Thomas Edison bought 13 acres in the Caloosahatchee River within 24 hours of arriving in Fort Myers in 1885, then planted 200 imported palm trees along the dirt road from downtown to his estate.
The Thomas Edison Estate is a must see, especially during the Christmas season in the Annual Holiday House display festooned with holiday lights and decorations. The estate is a large one, and reaches both sides of McGregor Boulevard and resides on the riverbank.
An estimated 1,800 palm trees now lining McGregor are from Thomas Edison's original donation. These magnificent Royal Palms soar past 75 feet tall, giving Fort Myers its nickname as "The City of Palms."
Today, McGregor Boulevard is home to some of the most stunning neighborhoods in Southwest Florida including Gulf Harbour, Palmetto Point, Town & River Estates and York Manor. It is pedestrian-friendly, and the street features restored buildings, popular restaurants, beach shops and professional buildings.
For recreation, the Fort Myers Country Club as well as the Golf View Pool are both located along Mcgregor Boulevard. Schools located in the McGregor Corridor include Fort Myers High School, Edison Park Elementary School, Allan Park Elementary School and Orangewood Elementary School.
Search Old Fort Myers Neighborhoods