Leonardo Santini: Fort Myers Beach Lion
Posted by Mark Washburn on Sunday, October 26, 2014 at 7:20:12 AM
By Mark Washburn / October 26, 2014
Comment
[caption id="attachment_6370" align="aligncenter" width="450"]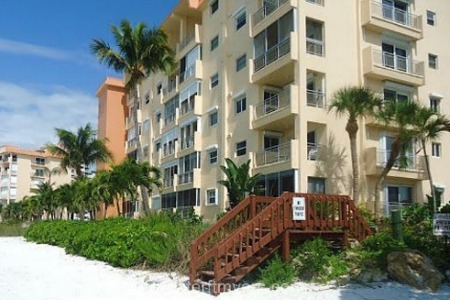 Leonardo Arms - Fort Myers Beach[/caption] Local lore has it that a former sailboat captain worked hard, scraped by, and saved to become one of the biggest landowners in Southwest Florida, culminating in the ownership of much of Estero Island. But this isn't fiction; it really happened. Leonardo Santini once owned all the South end of Estero Island and chose this eye-candy spot for his new venture in 1968, praising the beautiful sunsets and abundance of wildlife. Influential local Leonardo Santini, born in 1884 came to Lee County in 1908 as a sailboat captain, eventually becoming a land developer in
Fort Myers Beach
. He built the island's first condominium, the 6-story mid-rise Leonardo Arms in 1969 then the Santini Plaza three years later. On the South end of beautiful Fort Myers Beach, there is the Santini Marina Plaza with outdoor shops. Its unique blend of stores, entertainment and some of the Island's best restaurants will satisfy any shopper or diner. In 1948, Santini purchased the South end of the Island.
Leonardo Arms Condominium
is located on the beach at the South end of Estero Island and directly fronting the Gulf. The 6-story mid-rise building has 180 units ranging in size from 798-1,007 square feet. Close by is a convenient shopping plaza, and large supermarkets are a short drive away. Nearby is a golf course and boat rentals. Superb amenities at Leonardo Arms Condos include the largest heated pool on Fort Myers Beach, a private fishing pier, shuffleboards, gas outdoor grills, a library, a community room and bike storage. Located at 7400 Estero Boulevard, the Leonardo Arms is convenient to restaurants, shopping, marina and golf course. The condos feature 1 BR/1 BA and 2 BR/2 BA and all offer views of the Gulf of Mexico. At his death, Santini gave a gift of $2.5 million to benefit the needs of children in Lee County, Children's Hospital, Lee Mental Health and child hunger.