Lehigh duplex codes
Posted by Mark Washburn on Wednesday, March 22, 2006 at 11:42 AM
By Mark Washburn / March 22, 2006
Comment
Westminster area neighbors push for stricter codes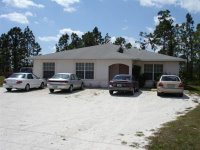 The large number of investor owned duplex units in the Westminster area has brought a set new of problems to the area. Many of these duplex units have been constructed without paved driveways and lack any exterior landscaping.
Often, the landscaping gets set aside at the end of the project to either cover project cost overruns or is rebated by the builder back to the owner to do themselves. In this second scenario, the work just never gets done and the duplex investor pockets the rebate
Area residents complained about these problems to the Lee County Commissioners, who have directed staff to develop a stricter set of codes surrounding duplex construction. Look for this increased zoning to slow duplex construction activity, as ROIs are already pretty skinny for this type of product right now in Lehigh.
Duplexes to face stricter codes [News-Press]