Lee County Population Growth
Posted by Mark Washburn on Monday, July 1, 2019 at 7:22:52 PM
By Mark Washburn / July 1, 2019
Comment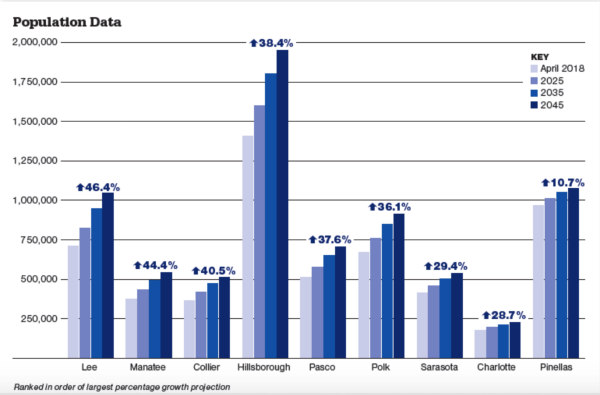 There's no doubt the population of Florida is on the rise, and that's even more obvious when you look more closely at locations such as Lee County. The area is quickly approaching the designation of one of the largest counties in the region, and its projected to continue on track as the fastest growing county for at least the next 25 years.
According to recent US Census numbers, the Cape Coral-Fort Myers area alone has one of the nation's highest rates of population growth, seeing a 22-percent growth between the years of 2010 to 2018. That puts the metro is seventh place when it comes to the nation's fastest growing metros. Cape Coral-Fort Myers already counts more than 754,000 residents.
That's compared to the State of Florida as a whole, with the statewide population most recently estimated at more than 21-million. The entire state gained more than 322,000 people last year.
As for Cape Coral, though, the booming population is something area leaders are well aware of. More specifically, they're looking at south Cape to help support that increasing population with new mixed-use developments and high-density residential areas.
In doing so, they also aim to make the area more bicycle and pedestrian friendly, giving new residents the opportunity to easily access local businesses, restaurants and even commute without a car. Already local residents say they're seeing change, with more and more people being drawn to the area.
Lured in by its hundreds of miles of canals and abundant opportunities for watersports, Cape Coral presents the opportunity for waterfront living, with easy access to area golf courses, tennis courts, parks and family attractions. What originally began as a master-planned community has quickly grown over the past half-century or so into a popular location to live, work and play in Southwest Florida.