Lee building permits stalled
Posted by Mark Washburn on Monday, February 6, 2006 at 11:21 PM
By Mark Washburn / February 6, 2006
Comment
New construction permits below last year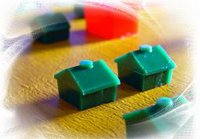 Another sign that the market in SW Florida is cooling are the drops in new single-family construction permits from the same period last year.
In January, Cape Coral issued 423 permits, down 29 percent from December 2004, but up five percent from December 2005. In January, Lee County issued 632 single-family home permits, down 18 percent from January 2005, but up one percent from December 2005.
I think that a significant factor contributing to these permitting fall-offs is the significant number of investors dropping out of the spec home market. At this time last year, many local builders were heavily promoting $1,000 down new single family home programs. For the most part, these programs have disappeared from the market. This is a good thing for the long-term health of the market as the end-user absorption rate of these properties is lagging behind the number coming on the market.
Lee's January home permits fall [News-Press]