Island Oasis On Its Way Downtown
Posted by Mark Washburn on Monday, November 1, 2021 at 6:22 PM
By Mark Washburn / November 1, 2021
Comment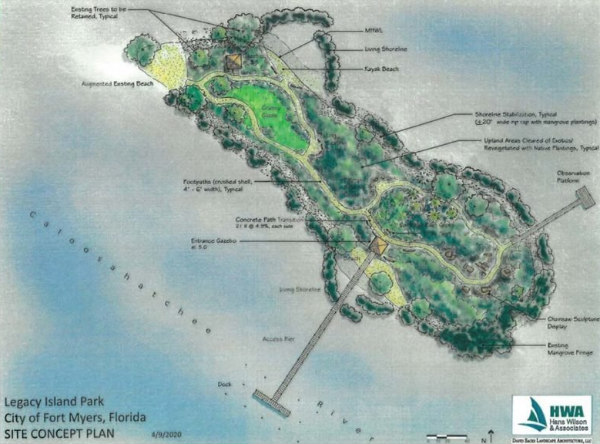 Fort Myers city leaders are on track to help bring a new island oasis close to Downtown Fort Myers. Plans call for remaking Legacy Island into an event location and recreational destination.
Work includes shoring up the island and protecting some of its trees, plus adding in restaurants, nature trails and docks for those spending time out on the Caloosahatchee River. Previously the overgrown island was sometimes referred to negatively, but city leaders hope to turn all of that around with the creation of Legacy Island Park.
At one time the landowners balked at any commercial construction on the property. However, the owners relented and allowed for construction of Luminary Hotel when the city offered to put in Legacy Island Park.
When finished, the park will have two gazebos with a view of the waterfront. The park is expected to draw in locals and tourists, alike.
Already, the city has spent more than $900,000 on the first phase of Legacy Island. Work on phase one consisted mostly of some permitting and preparing the island for construction.
Phase 2 is funded, thanks in part, to a nearly $280,000 grant from the Lee County Tourist Development Council. City officials expect construction to be finished by around the middle of next year.
It could take an estimated $2 million to get the island ready by then. Found in the Caloosahatchee River, Legacy Island sits near the Edison Bridge which runs between the River District and North Fort Myers.
While boaters are sure to be attracted to the island park in the future, some do visit the overgrown island already, as evidenced by an existing fire pit, chairs and a rope swing. It's hoped the improvements will make the area more attractive and inviting to visitors with space to take a stroll or even possibly set up a picnic lunch.