Inventory woes
Posted by Mark Washburn on Tuesday, February 28, 2006 at 2:02 PM
By Mark Washburn / February 28, 2006
Comment
Rising inventories are national phenomena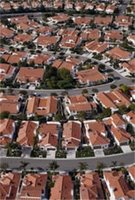 The ever increasing number of homes for sale is not an issue isolated to SW Florida. The inventory growth is occurring in many markets across the country.
This trend appears to be impacting the confidence level of visitors to our area. In the past years, boomers seemed eager to make commitments down here for a second property with the belief that the primary residence up north will sell quickly.
This change in buyer confidence could be a factor in the pre-construction sector. A
CNN/Money
article suggests that that new home order cancellations are a growing concern for builders.
Home builders have reported an increased number of orders for new homes being cancelled in recent months, raising concerns that buyers who were looking to real estate for an investment rather than their own housing needs are pulling out of the market. Such cancellations could put downward pressure on prices in some formerly hot markets.
A correction which reduces the level of investor owned property is certainly good for the long term health of our market. Yes there will be some bumps in the road, but in the long run the growth demographics associated with SW Florida make it a great place to own property.
Home sales: Is the market glutted?
[CNN/Money]