Hurdling investor landmines
Posted by Mark Washburn on Wednesday, September 14, 2005 at 10:02 AM
By Mark Washburn / September 14, 2005
Comment
Avoid common investor mistakes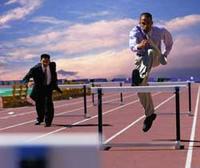 While it seems everyone is making a killing investing in real estate right now in SW Florida, there are some ways to lose big in real estate investing. MSN Money weighs in with a column by Jeff Schnepper titled
3 ways you can go broke in real estate
.
One surefire way to lose is to invest in a neighborhood where values are declining. Tough to identify many neighborhoods that fall into this category in our region right now.
Another investment pitfall is unstable tenants. This is absolutely an issue in a seasonal market like ours. Lose a couple of months of in-season rent and your investment could certainly be underwater.
A third investment pitfall is changing interest rates. With the surge in popularity of exotic mortgages, some investors are sure to get burned if interest rates go up. I received a letter from a lender this week notifying me of a $341 a month increase in a mortgage payment on an investment property due to an upward rate adjustment. While I was planning for this increase in my projections, sizeable payment increases can certainly squeeze investor cashflow.
3 ways you can go broke in real estate
[MSN Money]