Hovnanian swings and misses
Posted by Mark Washburn on Sunday, September 11, 2005 at 4:27 AM
By Mark Washburn / September 11, 2005
Comment
Local giant misses Q3 earnings target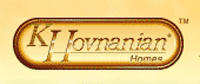 Hovnanian Enterprises, Inc.
, who recently
acquired
local power-house builder First Homes, missed third quarter earnings projections.
Hovnanian said earnings for its fiscal third quarter ended July 31 rose 34 percent to $116.1 million, or $1.76 per share, from $86.7 million, or $1.33 per share, in the year-ago period.
Analysts' average estimate was $1.77 per share, according to Reuters Estimates.
Red Bank, New Jersey-based Hovnanian maintained its outlook for fiscal 2005 earnings of more than $7 per share, versus analysts' average estimate of $7.24.
Commenting on the Hovnanian backlog, J. Larry Sorsby, Executive Vice President and Chief Financial Officer said "Our quarter-end backlog of more than 11,300 homes combined with the backlog of our two most recent acquisitions provides us with approximately 15,500 homes in contract backlog.
While the Q3 results were in not impacted by the First Homes acquisition which occurred after the quarter closed, saving Q4 could have been have a key driver in completing the deal. Public companies often make deals when organic results are not meeting expectations. It is interesting to note that the two acquisitions made by Hovnanian in the quarter added 4,200 contracted homes to the Hovnanian backlog.
Hovnanian Enterprises Reports 32% Increase in Fiscal 2005 Third Quarter EPS
[Hovnanian Enterprises]