Home builder optimism drops
Posted by Mark Washburn on Wednesday, September 21, 2005 at 11:53 PM
By Mark Washburn / September 21, 2005
Comment
Third consecutive month of declines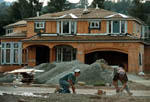 Home builder optimism in the market for new single-family homes remains in a positive zone this month, albeit with some further erosion from the cyclical high in June, according to the National Association of Home Builders/Wells Fargo Housing Market Index (HMI), released today.
"Many builders appear to be taking on a more cautious attitude because of uncertainties in the economy and this post-Katrina environment, particularly with regard to sales expectations in the near term," observed Dave Wilson, NAHB president and a custom home builder from Ketchum, Idaho.
The overall HMI declined two points in September to a score of 65, which is the lowest it has been since July of 2003 when it also hit 65. This was the third consecutive month of declines since June's 72 reading.
Home Builder Optimism Edges Down Further In September
[National Association of Home Builders]