History of the Sanibel Lighthouse
Posted by Mark Washburn on Wednesday, February 17, 2021 at 11:07:13 AM
By Mark Washburn / February 17, 2021
Comment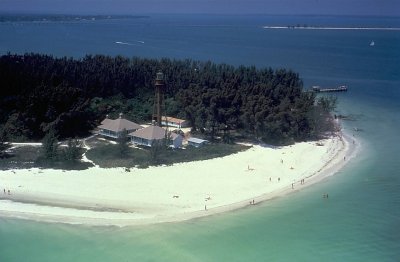 Found on the eastern end of Sanibel Island, the Sanibel Lighthouse dates back generations. Also called the Sanibel Island Light or even Point Ybel Light, the old lighthouse was first proposed to be built way back in the 1830s.
It wasn't actually constructed until the 1880s when Congress approved funding. At the time, it was one of the very first lighthouses to be built along Florida's Gulf Coast.
Its purpose was to help ships better see the entrance to San Carlos Bay when calling at the port of Punta Rassa. Unfortunately, a ship carrying iron to build the lighthouse itself sunk a couple of miles off the island. It's said divers were able to recover most of its pieces.
When constructed, the 98-foot lighthouse included an external spiral staircase with 127 steps. It was lit by kerosene oil and manned by a keeper for decades.
After a devastating hurricane, the lighthouse eventually became automated in the late 1940s. Flash forward a few more decades, and the old lighthouse was almost discontinued altogether.
Local residents and mariners managed to save it, and the lighthouse eventually gained a spot on the National Register of Historic Places by the mid 1970s. The Coast Guard then gave the Sanibel Lighthouse over to the City of Sanibel in the mid 2000s and the fundraising began.
About a decade passed before the city had enough money to restore the old structure. That effort cost more than $269,000.
While the lighthouse is not open to the public today, people can view the area around the structure. There's a large parking lot in the area, making it a popular spot for those heading to the beach, shelling or fishing.
People can also go visit the Sanibel Historic Museum and Village. That's where the original lighthouse lens is now on display.