Heartland Parkway
Posted by Mark Washburn on Monday, April 17, 2006 at 12:10 PM
By Mark Washburn / April 17, 2006
Comment
New Highway to Lee County?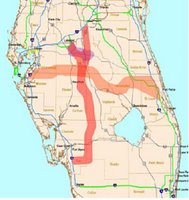 A conceptual plan has been unveiled for a new parkway which runs through the middle of the state of Florida. This roadway would connect to SR 80 in eastern Lee County near the Hendry County line.
The north-south portion of the roadway would provide connectivity between eastern Lee County and I-4 about 20 miles south of Orlando. The east-west portion connects Bradenton to Port St. Lucie.
If built, this roadway will have a revolutionary impact on the value of interior vacant land throughout Florida. The relief that this roadway would bring to I-75 would be welcomed by the entire region.
Parkway may bring I-75 relief [News-Press]