Late night real estate
Posted by Mark Washburn on Thursday, March 30, 2006 at 1:25 PM
By Mark Washburn / March 30, 2006
Comment
Would 24 hour real estate work in Fort Myers?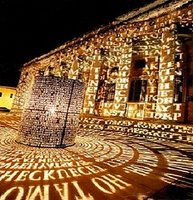 Have you heard about the
Manhattan broker
whose real estate office is open all night. His name is Michael Shvo and his outrageous antics, including this late-night twist, are often the talk of Gotham City's real estate trenches.
This story led me to ponder whether an all night real estate brokerage would work in Fort Myers. Judging by the lack of evening crowds at most downtown establishments, we are probably not ready for something like this.
Fast forward about five years to a time when the high-rises like
Beau Rivage
and
High Point Place
are fully inhabited,
First Street Village
is teaming with residents and the
Starbucks
at First Street and Broadway has late night lines, this is the kind of environment for a late night real estate office. The time is now to invest in Downtown Fort Myers before the revitalization is complete.
It's 4 A.M. Do You Know Where Your Realtor Is?
[NY Times]