Gulf access communities
Posted by Mark Washburn on Monday, September 26, 2005 at 5:51 PM
By Mark Washburn / September 26, 2005
Comment
SW Florida paradise or environmental disasters?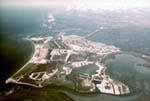 As recently posted,
gulf access properties
are rapidly appreciating and are in very high demand for residential development. Have you ever wondered why so much of the SW Florida coastline was carved up into canal front communities? In the 1950s and 1960s developers dredged massive swaths of coastal wetlands to create canal communities including present day Cape Coral and Marco Island. The canals were dug to provide enough fill to raise individual lots five feet above sea level. The cost of this development was the loss forever of dense mangroves, palmettos and second-growth pines. Landmark legislation was passed in the 1970s rein in wide-scale destruction of future wetlands including the Environmental Protection Act, the Clean Water Act and the Endangered Species Act. Today these man-made canals are the fuel driving historic price gains in SW Florida property.
The National Sea Grant Library
has three informative case studies detailing the origins of Rotunda West, Cape Coral and Marco Island.
Case Studies: Rotunda West, Cape Coral, Marco Island (part 1)
[National Sea Grant Library]
Case Studies: Rotunda West, Cape Coral, Marco Island (part 2)
[National Sea Grant Library]