Fun Activities at Times Square
Posted by Mark Washburn on Monday, August 16, 2021 at 12:27 PM
By Mark Washburn / August 16, 2021
Comment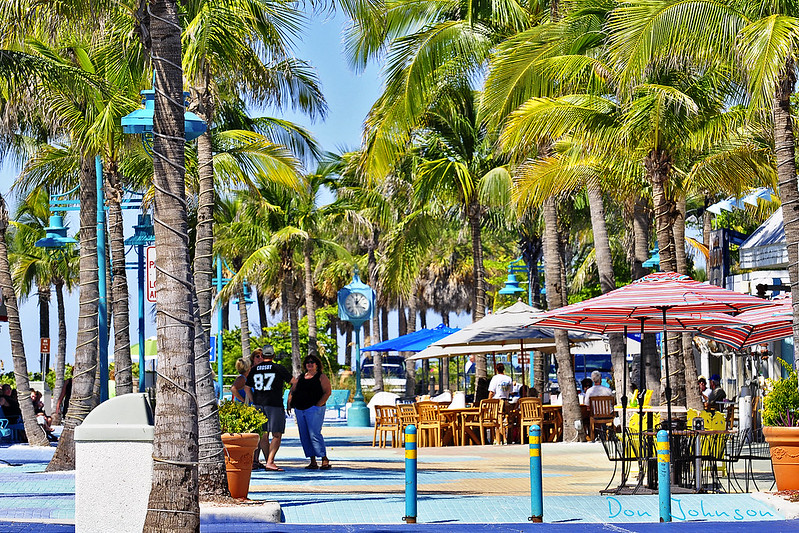 Photo: Don Johnson 395
From shopping and dining to live entertainment, there's plenty to do, see and experience in Times Square. Located in the downtown section of Fort Myers Beach, this Times Square is nothing like its counterpart in New York.
Right by the pier, Times Square in Fort Myers Beach is where you'll find some of the area's best beach shops, restaurants and more. Sample fresh seafood, bite into a tasty burger or grab something cold to drink when you visit one of the local restaurants and bars in popular Times Square.
It's also the place to go to pick up some souvenirs or simply items you need for a day at the beach. You'll find clothing, boards and more for sale in Times Square.
You'll also find some unique gifts, including items made by local artists. Speaking of, there are some art galleries in Times Square for artists to display their work.
On Friday and Saturday evenings, Times Square brings in live music and food, making it a great place to sit back and enjoy the surroundings. When the day is over, the location also just so happens to be a great place to catch a sunset.
Just head to the nearby Fort Myers Beach Pier. There is also public beach access in the area.
While Times Square is a fun place to visit now, a planned renovation project could bring more trees, signage and even a stage in the future. The redesign also aims to update walkways and common areas.
Late last year the Fort Myers Beach City Council decided to replace the aging Times Square clock tower as part of the project instead of renovating it. Construction on the entire project could begin sometime next year. It's all part of a larger plan that also aims to make improvements to Bay Oaks Recreational Campus and Bayside Park.