Housing-sector job growth
Posted by Mark Washburn on Wednesday, November 23, 2005 at 8:17 PM
By Mark Washburn / November 23, 2005
Comment
Economic growth tied to housing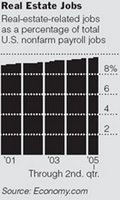 It oftem seems that almost everyone in SW Florida has some connection to the housing industry, be it through their job, as an investor or through a family member that sells real estate. Over the past four years, the growth in housing-focused jobs has turbo-charged our economy.
Asha Bangalore, an economist at Northern Trust in Chicago, tallied figures from the Bureau of Labor Statistics for sectors like construction, building material and garden supply stores. She found that from November 2001 to October 2005, housing and real estate accounted for a whopping 36 percent of private-sector payroll job growth. "In four years, 2.3 million private-sector jobs were created in the U.S., and 836,000 were related to the housing sector," she said.
Yes, it is truly remarkable that over a third of all new private sector jobs over the last four years were in housing and real estate. It will be interesting to see what happens to all these jobs as the boom slows.
As the McMansions Go, So Goes Job Growth [NY Times]