Front Porches in Vogue at Babcock Ranch
Posted by Mark Washburn on Monday, November 6, 2017 at 8:59:29 AM
By Mark Washburn / November 6, 2017
Comment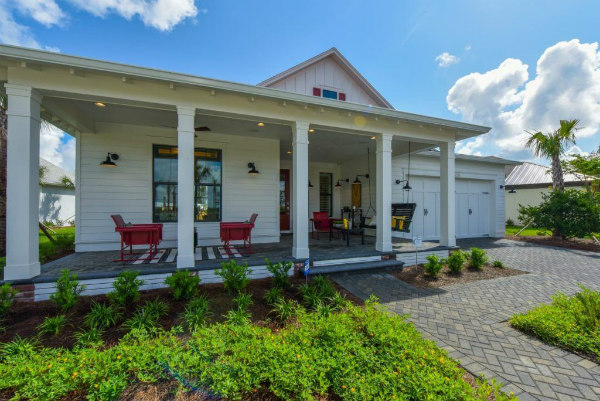 While for many homes and many communities it's common for residents to enjoy the privacy of backyard lanais, an old trend is certainly making a comeback in one of the area's most innovative new communities. At Babcock Ranch, front porches are once again taking center stage, with a community where it's certainly in vogue to enjoy the comfort of utilizing a front porch design.
While the community itself is quickly gaining a reputation as one of the most inventive, being that it's the world's first solar powered town, it's also gaining interest for some of the more "old school" design principles. A front porch fits in nicely with Old Florida-style designs, but in the old days it was perhaps a design more out of necessity than actual style.
Front porches were the place families and neighbors congregated before the days of air conditioning. The shade helped cool down some of the hot air before it blew in a home and gave a place for people to gather in relative comfort.
For the new community of Babcock Ranch, the porches fulfill a similar role in bringing people together. Although modern conveniences may have changed the needs of new homebuyers, the builders of Babcock Ranch are committed to fulfilling the idea of a true community of neighbors.
With some of the model homes moving the garages to the back of residences it makes it easier to make use of the space up front. As well, many homes are close to town center, as well, making it simple for residences to walk or hop on a bicycle for a quick trip anywhere they want to go.
Eventually, Babcock Ranch is projected to make room for around 20,000 homes, with quality construction and unique design principles coming together to form one of the area's most exciting and anticipated new communities of homes.
Search Babcock Ranch Neighborhoods